National award for "unsung hero" Ray
Date of release: 17 November 2023
An "unsung hero" who has devoted nearly three decades towards transforming thousands of patients' lives by building new limbs for them has been recognised with a national award.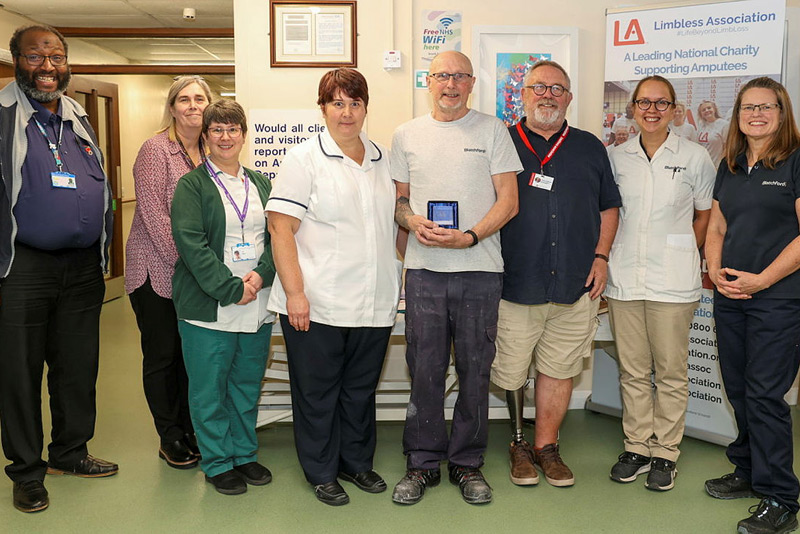 Ray with his award, with, from left, colleagues James Orotayo, Amanda Cartwright, Sue Hayes, Lou Tisdale, Trevor Gallivan, Dawn Crofts and Lee Ketcham
Ray Smith, 65, has won The Limbless Association's Outstanding Prosthetic Technician of the Year following an online nomination process.
The grandfather of two has built more than 8,000 limb parts in his 27 years attached to The Royal Wolverhampton NHS Trust (RWT), most recently through sub-contractor Blatchford.
Based at The Maltings Mobility Centre just outside Wolverhampton City Centre, Ray, a Prosthetic Technician from East Park, is one of a team of seven.
Ray makes artificial legs – upper is above the knee and lower is below the knee, whether that be in carbon fibre, metal or resin. He works with patients, the Clinical Prosthetist and Physiotherapist to ensure limbs fit and are comfortable. Each limb is bespoke to that patient.
And he has never lost of sight of his – and the Trust's – values.
"I'm very pleased and proud to be recognised with this award," said Ray, who previously made complete trailers and installed the electrics and hydraulics for AHP Trailers and worked in steel fabrication.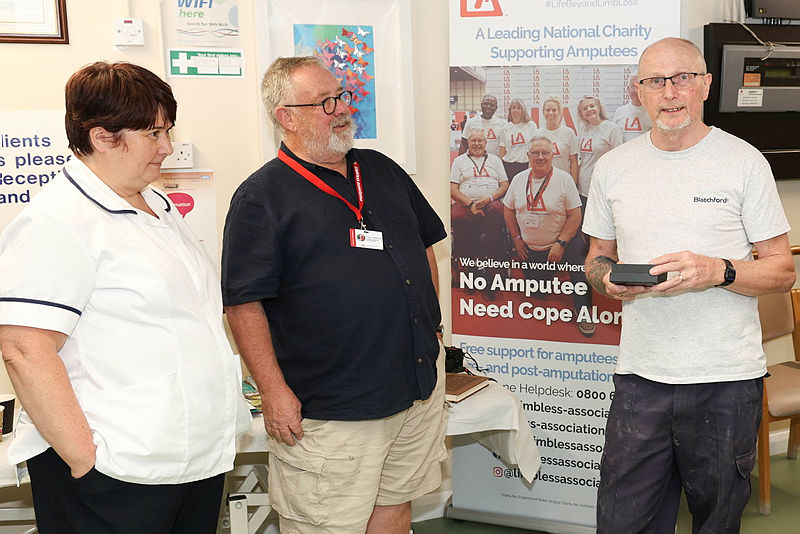 Ray with Lou (left) and Trevor
"I've worked in this industry for 27 years and to receive this recognition is overwhelming, especially coming from this charity because these people it helps are our bread and butter.
"I remember the first patient I ever saw and when he came to me he was very down having lost a limb, but when I made his new leg he was so pleased. From that first patient I treated to my last, they always come first and I've always remembered that.
"The charity holds a special place in my heart because it means people have someone to talk to if they have lost a limb – before it came about, you were very much on your own.
"I feel so honoured to receive this award – it's better than anything I could ask for."
Winning the award also has a poignancy for Ray because his late close friend David Perrin, a one-time promising footballer, lost his leg below the knee.
Ray, who enjoys fishing in his spare time, says his most unusual request was to make a papier-mache limb for someone to be cremated in.
The father of two is due to retire on his 66th birthday on 15 May 2024 but loves his work so much he is hoping to carry on.
Lou Tisdale, Clinical Specialist Physiotherapist, Amputee Rehabilitation, said: "It was a huge honour to witness the handover of the award to Ray.
"Ray is a pleasure to work with and fully deserves this award – he is a true team player and his excellence in prosthetic manufacture and adjustment/repairs has always been acknowledged by staff and patients alike. It is good to have some formal recognition of this."
Trevor Gallivan, Outreach Coordinator (Midlands) from the Limbless Association said: "We are aware of the unsung heroes who are key in the rehabilitation of all amputees. It was a pleasure to present Ray with his award.
"Regardless of how sophisticated a prosthetic is, its effectiveness is dependent on the skill of the prosthetic technician to ensure a good fit."
ENDS
For further information, please call Tim Nash on 07714 741097 or email tim.nash2@nhs.net