Happy 10th birthday Acute Oncology Service
Date of release: 17 November 2023
An award-winning cancer service in Wolverhampton is celebrating its 10th anniversary – having cared for 13,000 patients and quadrupled its size into a seven-day operation.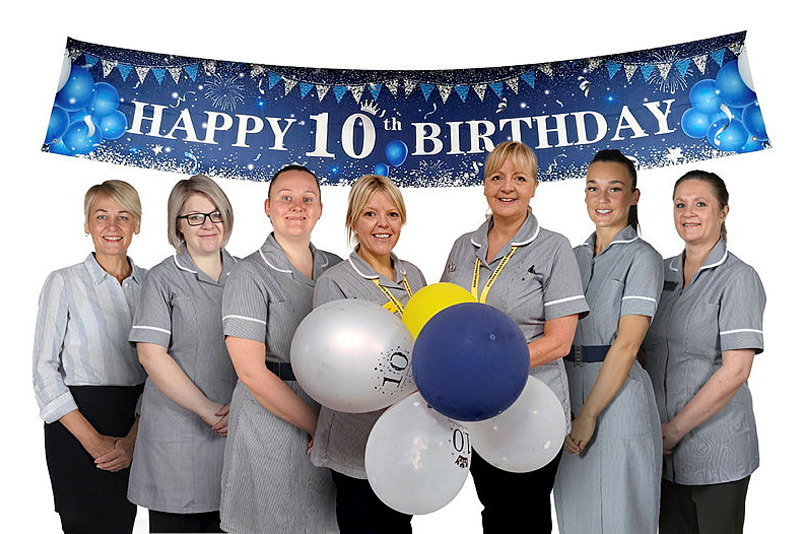 Acute Oncology Service celebrating its 10th anniversary, from left: Elaine Beach, AOS Co-ordinator, Kelly Stokes, Clinical Nurse Specialist, Emma Thompson, Clinical Nurse Specialist, Emma Hall, Advanced Nurse Practitioner, Nicola Robottom, Advanced Nurse Practitioner, Jessica Evans, Clinical Nurse Specialist, and Jacqueline Edwards, Clinical Nurse Specialist
The Acute Oncology Service (AOS), part of The Royal Wolverhampton NHS Trust (RWT) based at The Deanesly Centre at New Cross Hospital, was set up 10 years ago this weekend by Advanced Nurse Practitioners Nicola Robottom and Emma Hall.
AOS – a relatively new speciality in Oncology – was introduced following the publication of three national reports related to cancer treatment.
Over the last decade, the service has grown from two full-time Clinical Nurse Specialists (CNSs) to eight staff, boasting two Advanced Nurse Practitioners, five CNSs and a Service Co-ordinator.
Since its introduction in 2013, more than 13,000 new patients have been seen by the service. Nursing staff have made 48,695 patient contacts during their time in hospital.
It is now a Monday-Sunday face-to-face service, working extended hours to support all cancer patients requiring unplanned hospital admission.
AOS Nurses also act as an outreach service, supporting all clinical teams to wherever cancer patients are cared for throughout the hospital.
"Emma and I are proud to have started this service from scratch when AOS was a new phenomenon, developing policies, procedures and practices," said Nicola, 53, who also served as Deputy Chair of the West Midlands Expert Advisory Group for Acute Oncology.
"When we started it, we were taking examples from other Trusts, but we have seen our service develop into one of the leading AOSs in the Midlands where other Trusts are looking at what we're doing.
"New developing AOSs are now coming to see our model, as a direct result of this, we now feel like we're ahead of the game."
The service is also recognised as innovative in treatment for Metastatic Spinal Cord Compression (MSCC), where cancer grows in the spine or around the spinal cord. RWT's AOS is forging the way nationally in post-MSCC rehabilitation and follow-up care.
Emma, 43, is presenting on service improvement at the annual Oncology Nursing Conference (UKONS) this weekend at the International Convention Centre in Newport, South Wales.
She has recently completed her Master's degree on rehabilitation of cancer patients with MSCC to improve patients' experience following discharge as part of the government's 'Living With and Beyond Cancer' project.
RWT's service has become one of the first to be supported by a Consultant Radiographer, who independently prescribes palliative Radiotherapy to cancer patients.
The AOS also continues to support patients with Cancer of Unknown Primary, where the primary site of the cancer – or organ – can't be found in a patient with a malignant tumour.
In 2019 the service was recognised as a finalist in the Excellence in Patient Care category at the Trust's Royal Awards and was both winner in category and overall Trust winner at the 2018 Trust Clinical Audit Wards for demonstrating positive impact upon patient care.
ENDS
For further information, please call Tim Nash on 07714 741097 or email tim.nash2@nhs.net